February
DarwIN Shrewsbury Festival
Shrewsbury | February | 35 mins from Church Farm
Celebrating Shrewsbury's Most Famous son, with a lineup of fascinating events from lectures and talks, to tours of Darwin's Shrewsbury, taking in the library where he went to school, his former home on The Mount and his childhood garden.
Shropshire Kids Festival
Telford | February | 10 mins from Church Farm
Shropshire Kids Festival is your one-stop ticket to family fun! We bring together hundreds of activities into one place, for a jam-packed day of excitement and fun for your little ones.
Lambing Live
Oswestry | February | 50 mins from Church Farm
Join us and our farm animals in our barns, where you can catch a glimpse of our newborn lambs, and learn more about our sheep with daily talks from the Park Hall team.
Access to lambing live is included in the admission price, and also includes our indoor & outdoor play areas, tractor rides, meet the animals, trenches, planet room, and the science area.
March
Wenlock Olympian Games Live Arts Festival
Much Wenlock | March | 15 mins from Church Farm
The annual Live Arts Festival is a well-loved event for young people aged 18 years and under. The arts were part of the original Wenlock Olympian Games first held in 1850 . There are competitive classes in Dance, Music (instrumental and voice), and Speech and Drama(including Choral Speaking)The festival celebrates skill in performance as well as creativity, and each competitors' performance is taken into consideration alongside their artistic work within a friendly and encouraging environment,. The adjudicators are professionals in their field and winners are awarded Wenlock Olympian gold, silver, and bronze medals. Also, every competitor receives a participation certificate.
Additionally, the singer, musician, and dancer of the year will each be awarded a Wenlock Olympian discobolus trophy.
Members of the public are very welcome to come and watch the performances (subject to venue capacity). Admission for spectators is free.
April
Camp Severn – Kids Festival
Shrewsbury | April/May | 35 mins from Church Farm
A wide range of activities for children including :
Stannage Stunt Team,
Panic Family Circus including circus workshops.
Wild West Themed shows.
Fusion Extreme MBT & BMX shows / workshops
Dinosaur invasion shows and walkabouts.
Live music on Festi Fun Sunday.
Shrewsbury Colour Run
Shrewsbury | April | 30 mins from Shrewsbury
The stunning grounds of Sansaw Estate make for a picturesque morning of fun in aid of Lingen Davies Cancer Fund! As you make your way round the 5k course, volunteers are primed and ready to douse you in colour powder at the four colour stations along the route. Ending the day with a clean t-shirt is not an option!!
Shrewsbury Steampunk Festival
Shrewsbury | April | 35 mins from Church Farm
We can look forward to the usual wonderfully quirky lineup of entertainment, music, dancing and a Steampunk fair in St Mary's Church – teapot racing anyone? How about tea tuelling? Fire breathing? Fancy dress not essential, but it's more fun if you do! 
Shropshire Tasty Trail
Ellesmere | April | 50 mins from Church Farm
If you love walking in the great outdoors, socialising with loved ones, eating and drinking delicious produce and supporting local businesses, then this event is perfect for you!
You will embark on a 7.5 mile walk that will include three stop offs, where you will enjoy a tasty course made with ingredients sourced from the local area.
It will be the perfect opportunity to take in beautiful views across Ellesmere, whilst keeping active and supporting Shropshire's food and drink producers. There's no catch!
May
Ironbridge Walking Festival
Various locations, Ironbridge | May | 10 mins from Church Farm
A programme of 60 walks over nine days in and around the stunning Ironbridge Gorge. All walks are free but pre-booking is essential. Dates and the full programme is available online here. Or call 01952 433 424.
---
Clun Green Man Festival
Castle Field, Clun | May | 1 hr from Church Farm
Enjoy a day of music and entertainment including maypole dancing, magic shows and traditional craft demonstrations. Not forgetting the famous battle between the Green Man and the Snow Queen.
---
Bridgnorth Lions Walk
Various locations, Bridgnorth | May | 15 mins from Church Farm
Annual Bridgnorth Walk and Marathon all for charity.
The Bridgnorth Walk was established in 1967 as a way of raising money for local, national and international charities. In 2017 Bridgnorth Lions took over as organisers.
The event regularly raises over £100,000 for good causes and attracts both competitive and weekend walkers who enjoy a wonderful community atmosphere along the 22 mile route.
In 2019 Bridgnorth Lions announced a major expansion to the Walk weekend by adding a Marathon for runners. The event was judged by runners to be extremely challenging but rewarding as the route took in some of the most beautiful Shropshire countryside, including a visit to the top of the 1770 foot high Brown Clee.
---
Eyton Races
Eyton on Severn | May | 25 mins from Church Farm
Enjoy the excitement of steeplechasing at one of the UK's leading point-to-point courses. Bring a picnic and enjoy the panoramic views over Wenlock Edge, as well as a fairground and stalls with local produce.
Entry fees apply
---
Bishop's Castle Walking Festival
Bishops Castle | May | 1 hr from Church Farm
Join guided walks through the Shropshire countryside with a variety of scenic routes and levels of difficulty to choose from. From family-friendly to the more strenuous which are aimed at experienced walkers.
---
Lifestyle 2022 Show
Telford International Centre, Telford | May | 10 mins from Church Farm
For anyone wanting to make the most of their leisure time, this event is packed full of inspiration. From holiday homes and gardening to an artisan fair and live theatre.
---
Spring Model Railway Weekend
Various Severn Valley Railway Stations | May | nearest is 15 mins from Church Farm
Displaying some of the best modellers from around Worcestershire, Shropshire and the West Midlands. Refreshment rooms will be open throughout the weekend.
---
Vintage and Handmade Festival
RAF Museum Midlands (formerly Cosford) | May | 15 mins from Church Farm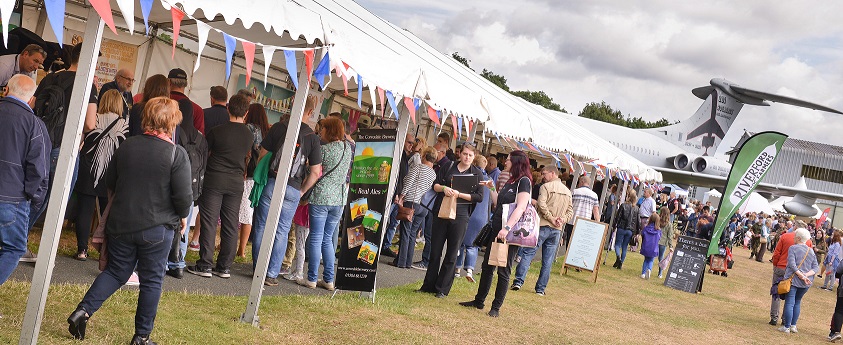 Celebrating music, fashion, design and style through the decades. From the glamorous art deco era of the 1920s, through to the bold colours and power suits of the 1980s. Vintage stallholders will be selling a wide range of products including art prints, vintage jewellery, clothes and homeware. With handcrafted items in the handmade marquee, a variety of vintage cars and caravans on display, a pop-up beauty parlour and a fairground for all ages to enjoy.
---
Ludlow Spring Festival
Ludlow Castle, Ludlow | May | 1 hour from Church Farm
Step into Spring with this weekend packed full of fun, feasting, live music and motors. You will be guaranteed live music, great food, a wide selection of real ales in the Festival Pub and FREE talks from some of the fabulous food and drink producers in our region. Judging for the Wales & West SIBA beer championships takes place in a closed session on the Friday, then the doors are swung open to the public for an exclusive tasting of the newly crowned winners! We also host the Marches Transport Festival so there will be an impressive display of classic and vintage vehicles – some from the early years of the last century. Full details along with early bird tickets can be found via the website.
---
Spring Diesel Festival
Various Severn Valley Railway Stations | May | nearest is 15 mins from Church Farm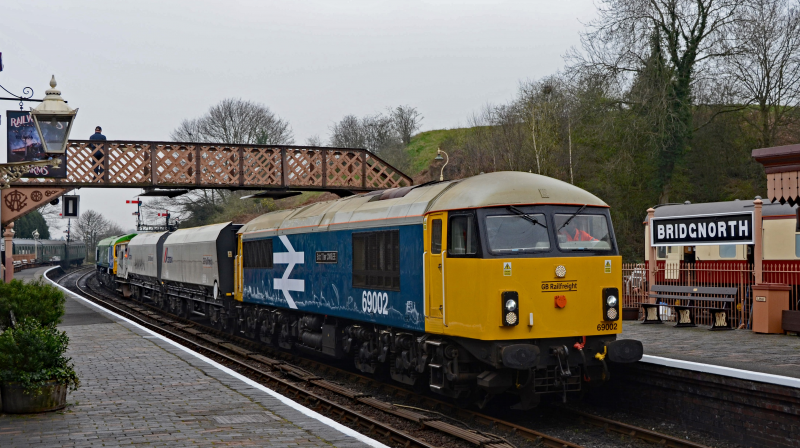 The biggest diesel bash around; three days of visiting heritage and modern diesel locos. It's a real hit with those who love the sounds of English Electric, Maybach and Sulzer diesel engines; apparently some people do.
---
Party in the Park
The Quarry, Shrewsbury | May | 36 mins from Church Farm
Party in the Quarry to a live music stage bringing a variety of sounds from local bands and musicians. Enjoy the local beers, ales, ciders on offer. Visit the gin den or enjoy a cocktail on the grass and sample some tasty street food.
Visit Website
---
Shropshire County Agricultural Show
West Midlands Showground, Shrewsbury | May | 36 mins from Church Farm
Ostensibly for the farming community, the show is now a successful and popular family event that attracts thousands of people year on year. If you are a regular visitor we are sure you will return, but if you have never experienced the agricultural show we can assure you that you will be impressed! Expect exciting main arena attractions, competitive livestock classes, a qualifying round for the Horse of the Year Show, a kid's zone and a vintage rally.
---
Weston's Spring Fling
Weston Park, Weston-under-Lizard | May | 18 mins from Church Farm
Enjoy a fabulous line-up of local artisan food producers, unique crafts, street food, live music from the Dirty Rockin' Scoundrels and fairground rides to keep all ages entertained. Bring your picnic rugs and chairs and relax. Last admission is at 4pm. Well-behaved dogs on leads are welcome.
---
Krazy Races
The Quarry, Shrewsbury | May | 36 mins from Church Farm
Soap-box derby is back! So come and cheer on the Krazy, wacky and outrageous soapbox downhill racers. With local food and drink stalls, and entertainment throughout the day.
---
---
June
The 90s Revival Festival
West Midlands Showground, Shrewsbury | June | 36 mins from Church Farm
Wave your hands in the air like you just don't care and dance like nobody's watching you. Local DJs will be joined by some of the best artists of the 90s music scene, as well as some great tribute acts. Spread over two days with a family stage, interactive games, and food and drink stalls.
---
Much Wenlock Festival
The Church Green, Much Wenlock | June | 36 mins from Church Farm
With a fantastic line-up from theatre to live music, fascinating speakers to dance events. This year's festival really does have something for everyone. Featuring the much-loved favourite 'Proms on the Green', 'Hamlet the Comedy' performed by Oddsocks and a 'Little Mix Tribute Night'.
---
English Haydn Festival
Bridgnorth | June | 15 mins from Church Farm
An annual celebration of music featuring Steven Devine, the current conductor for the festival, and the English Haydn Orchestra. The English Haydn Festival was set up in 1993 by violinist John Reid in collaboration with Professor Robbins Landon with the intention of providing live performances of classical music to a rural community. The Festival focuses on the prolific work of Joseph Haydn and those other celebrated 18th century composers.
---
Wellbeing Festival
The Quarry, Shrewsbury | June | 40 mins from Church Farm
Find out the secrets of a healthy and happy lifestyle from some of the UK's fitness and wellbeing specialists. There will be something for everyone to embrace with four key areas: wellbeing, fitness, nutrition and kids. Plus, a yoga and mindfulness zone set to uplifting house music.
---
Bridgnorth Open House Arts Trail
Various addresses in Bridgnorth | June | 15 mins from Church Farm
Around 40 Artists will display their crafts to the general public in 27 Bridgnorth homes and business premises over the weekend.
---
Deva Dubs Volkswagen Rally
West Midlands Showground, Shrewsbury | June | 36 mins from Church Farm
Visit one of the UK's best VW shows, a weekend full of cars, live music, funfair trade stalls, all with a fun festival atmosphere. There will be themed displays, a charity auction, cars for sale area and plenty of entertainment for the kids. But will this year's be the last one?
---
RAF Cosford Air Show
RAF Museum, Cosford | June | 17 mins from Church Farm
The Midlands premier air event offers non-stop entertainment. With displays from a variety of aircraft, hundreds of exhibits, stalls, trade stands, military demonstrations, and children's entertainment. This is an advance ticket-only event.
---
Airshow International!
Weston Park | June | 18 mins from Church Farm
Prepare to be dazzled at this action-packed show, with plenty to keep the whole family entertained. With model and full-size aircraft displays, and a variety of stalls including trade, craft fair and food and drink. There's a funfair for the children to enjoy and live music in the evenings. Saturday will see a fun after dark fireworks and aerial pyro show.
Fees apply
---
Beardy Folk Festival
Hopton Court, Cleobury Mortimer | June | 44 mins from Church Farm
Beardy Folk Festival is a carefully crafted, Midsummer music festival boasting a brilliant line up of folk, roots & acoustic music, plus a mix of Americana, bluegrass, country & world inspired music. All set in the private grounds & secret walled garden of the Hopton Court Estate in South Shropshire. There's world class music on two impressive outdoor stages, artisan street food & bars, a trade village, workshops, talks, storytelling & children's entertainment including circus workshops & woodland craft activities.
Plus, artisan street food, trade village, workshops, wellbeing activities and family entertainment. It is a summer festival not to be missed.
---
Broseley Festival
Broseley | June | 12 mins from Church Farm
Promising a great line-up of live music, delicious street food, bars and craft stalls, and a family funfair. Don't miss your chance to attend this two-day award-winning family festival.
---
Secret Gardens of Ludlow
Various Venues, Ludlow | June | 50 mins from Church Farm
Eleven private gardens will open their gates for this popular annual event. Ranging from a small riverside garden specialising in cut flowers to spacious formal gardens, and everything in between. Tea and homemade cakes, ice creams and plants from Mellington Nurseries will be on sale in various gardens, with a prosecco bar and a little light jazz on the lawn. A fundraising event organised by LARFE.
---
Shrewsbury Food Festival
The Quarry, Shrewsbury | June | 40 mins from Church Farm
With a fabulous selection of local food and drink producers and featuring a host of exhibitors, cookery demonstrations, chef schools, classes, kids' entertainment and live music stages. It makes the perfect day out for the whole family.
---
Armed Forces Day
Broadoaks Playing Field, Telford | June | 18 mins from Church Farm
Come and celebrate Armed Forces Day with music from the Bluebird Belles and sporting activities for children including team games such as an egg and spoon race and sack race.
Look around the military vehicles on display, take part in 1940s school activities, watch the WW2 re-enactment group and take part in arts and crafts.
A great day out for all the family!
---
---
July
Large Model Air Show
RAF Museum, Cosford | July | 17 mins from Church Farm
A range of large model aircraft will be on display, along with more than 50 trade stalls including a range of craft and food stalls to enjoy. There will be entertainment and activities for the little ones.
Call  08712 301083
---
Church Stretton Arts Festival
Church Stetton | July | 40 mins from Church Farm
There will be a range of performance arts to suit all tastes, including classical & contemporary music concerts, drama, speakers, free coffee concerts, free organ recitals, art-related workshops and exhibitions of art, crafts and photography by well over a hundred exhibiting local artists.
---
---
August
Telford Balloon Fiesta
QEII Arena, Telford Town Park | August | 17 mins from Church Farm
Come along to the 5th annual Telford Balloon Fiesta with a packed programme of activities throughout the whole weekend.
Watch more than 20 hot air balloons take to the sky and watch the action from LED performers and fire eaters, parkour free runners and BMX stunt riders.
Food and drink available along with a local music stage.
---
Camp Bestival
Weston Park | August | 18 mins from Church Farm
Camp Bestival is all about spending exciting times together with your loved ones and a host of like-minded families, playing, dancing, relaxing and exploring in the glorious outdoors. If your idea of fun is the best music, theatre, comedy, and all manner of jaw-dropping spectacles, then of course we've got that. But we know that amusing your family for four days takes a little bit more, which is why you'll find a cornucopia of screen-free creativity and diverting delights from kids' gardens brimming with fun and games, mud kitchens, robot junkyards and bushcraft, to a plethora of well-being pursuits such as yoga, meditation, and massage. So, whatever your speed, you and the kids can have as much or as little of the action as you like, when you like.
---
Shrewsbury Flower Show
The Quarry, Shrewsbury | August | 36 mins from Church Farm
The show is one of the country's premier flower show events, attracting top exhibitors from all over the country. It has a small permanent staff and over 100 volunteers who manage and organise the whole event, from traffic flow, marquee and services contracts, publicity and marketing, public safety, catering and entertainment, and engaging specialist judges for hundreds of competitive classes etc. and ensuring that our visitors have an extraordinary experience with value for money.
---
Shrewsbury Folk Festival
West Midlands Showground, Shrewsbury | August | 36 mins from Church Farm
As far as the music is concerned, Shrewsbury Folk Festival has a reputation for delivering the very finest acts from the UK and around the world, always searching to find new authentic artists as well as providing a platform for established performers, and never forgetting to add some fun and diversity to their concerts. They try to bring quality in depth, and recognise the need to give artists and audiences the best stages, in the best marquees, with the best sound and lighting possible.
A place to make new friends and meet up with old friends, an inclusive friendly atmosphere whether you are an experienced folkie or a complete newcomer, whether you come with friends or on your own.
---
Burwarton Show
Bridgnorth | August | 30 mins from Church Farm
One day agricultural show with activities and displays throughout the day for all ages. Livestock, horses, tradestands, craft demonstrations and market, Aldabra giant tortoises, rare breed poultry, local food arena, Handicraft and Horticulture displays, vintage tractors and stationary engines and much, much more. Main ring attractions in the afternoon include the Atkinson Action Horse display and the Jamie Squibb Freestyle Stunt Team display, both offering thrilling displays plus the Grant Parade of Livestock.
---
Festival of Transport Extravaganza
Severn Valley Railway Stations | August | nearest 15 mins from Church Farm
This festival of transport brings together the best of vintage vehicles throughout the ages for one bumper weekend across the full length of the line.
Cars, tractors, traction engines, buses, motorbikes and – of course – steam locomotives and diesel engines. Start your journey at any station and explore vehicles through the ages whilst travelling on the train, experiencing the golden age of steam. Take your senses on a journey to the golden age of steam as your head along the line, discovering beautifully preserved stations, fantastic local towns and villages, The Engine House Visitor Centre, stop for lunch, see the awe-inspiring nature of the Severn Valley plus get up close and personal with a variety of steam engines – some of which are over a century old.
---
The Ludlow Magnalonga Food And Drink Walk
Ludlow | August | 50 mins from Church Farm
This is a walk (it's leisurely and fun, not a race!) which takes you up and down footpaths, tracks and quiet lanes through unspoilt countryside with fine views all around.
There may well be stiles, steep hills and rough tracks to navigate! And each year we explore a different route around Ludlow and the wonderful surrounding countryside.
During your journey, you make several stops for refreshment. At each, you will enjoy part of a meal based mostly on the local produce of Ludlow and across the Welsh Marches. Your food will be washed down with local real ale, or traditional local perry or cider, or other drink with a local connection. You will also be given some local bottled water, which we encourage you to refill along the way.
The Ludlow Magnalonga, now in its nineteenth year, is based on a similar and very successful event organised by our winemaking friends in Ludlow's twin town of San Pietro in Cariano, near Verona in Italy – the home of Valpolicella.
---
September
The Coracle World Championships
Pengwern Shrewsbury | Sept | 36 mins from Church Farm
This unique event, the Coracle World Championships, for that is what they are, were born with the intention of a fun day out of the office and nice fat cheque for Macmillan Cancer Support. To date this event has raised over £320,000 for Macmillan in Shropshire, with countless competitors paddling, capsizing and drifting to glory.
Up to 48 teams of 4 will take part in coracle race, over about 6 hours, in September. Most teams wear fancy dress. Come for fun, enjoy the crowds, the local food and pubs.
---
The Ludlow Food Festival
Ludlow | Sept | 50 mins from Church Farm
The original food festival, showcasing creative producers across from Ludlow and across the Welsh Marches alongside a handful of invited traders who have something that 'little bit different' to bring to the Festival from 'Further Afield'!
With a whole array of producers who join the festival, from cheese mongers, bakers, brewers and baristas, there is something for every palate. You can also find chocolatiers, butchers, winemakers and those that create delicious ice cream.
---
SHROPSHIRE OKTOBERFEST
The Quarry, Shrewsbury | Sept/Oct | 36 mins from Church Farm
With around 150 Real Ales all served up by awesome brewers from across the region. Also the Wye Valley Lager Bar, serving up the very best handcrafted local lager from across the region to bring you a unique taste with every drop. Remember, you'll find NO national brands at this festival!
In addition you can expect the best of local Cider, Perry, Gin and wine.
But this festival is more that drink, you can also expect some great comedy and music! That's why we stage our own Connexis Comedy Club. And on the Woodings & Co. stage, we'll have Oompah bands and the best of Shropshire Talent we can promise you sounds to make you swing.
---
Water's Edge Fest
Newport | Sept | 25 mins from Church Farm
Come and join us by the water's edge at Chetwynd Deer Park and enjoy a fantastic day packed full of live music, great beer, a gin & rum bar and super street food.
We have an afternoon and early evening packed full of Superb Live Music, Local Street Food Vendors, Real Ale, Gin & Rum Bar, Prosecco, Ciders, Premium Spirits, Pimm's, Craft Beer and fun all day long!
---
Ginger & Spice Festival
Market Drayton | Sept | 36 mins from Church Farm
Visitors can enjoy a vibrant spicy street market including everything from hand iced gingerbread, boozy ginger cakes, chai fudge and cinnamon ice-cream to ginger ales, aromatic gins and hot spicy street food. There will be a food theatre located under the historic stone portico Buttercross with national, regional and top local chefs. Other events include a floating market on the nearby tow path of the Shropshire Union Canal, a Fodder and Tipple trail with tasty stop offs including beer sampling, street entertainers, children's cookery classes, live comedy, and a grand finale jazz concert in the historic St Mary's Church in the centre of the town.
There will be several competitions including gingerbread decorating and new for 2022 – a gingerbread biscuit eating contest!
https://www.gingerandspicefest.co.uk/
---
Shrewsbury Proms in the Park
Wedt Midlands Showground, Shrewsbury | Sept | 36 mins from Church Farm
Join us for a magical night of classical music at the Shrewsbury Proms in the Park.
This unmissable experience will feature all the classics from the 'Last night of the Proms' performed by a special guest singer and the 40 piece Midlands Proms Orchestra.
With the late summer sun setting and the sounds of Elgar, Tchaikovsky and Beethoven filling the night sky, it is sure to be an evening to remember.
---
Bridgnorth Beer Festival
Bridgnorth | Sept | 15 mins from Church Farm
Bridgnorth Severn Valley Railway Station will host over 60 Real Ales, Ciders and Perries for the much-loved Bridgnorth Beer Festival. Entry to the Beer Festival is FREE.
---
Historic Rally Festival
Weston Park | Sept/Oct | 15 mins from Church Farm
The award nominated Historic Rally Festival is a two day Motorsport UK permitted multi-venue event featuring stages at the iconic Ironbridge Power Station plus dusk stages at Weston Park.
The rally will feature up to 60 specially selected cars to take on famous stages with a festival atmosphere created for all the family.
Shrewsbury Beer Festival (CAMRA)
Shrewsbury | Sept/Oct | 35 mins from Church Farm
Five day festival organised by the Campaign for Real Ale.
100 beer festival in a stunning medieval church in the town centre.
Also offers ciders, perries and gins. Food available on-site and nearby
Gorgeous Christmas Craft Fair
Coalbrookdale | Nov| 10 mins from Church Farm
Over 30 designer makers coming together to show and sell their handmade work.
There will be a wide variety of work across many disciplines; furniture, glass work, woodwork, ceramics, weaving, feltwork, textiles, painting, printmaking, jewellery and much much more…
Free admission to the show.
---
Steam in Lights
Bridgnorth | Nov/Dec | 15 mins from Church Farm
Experience Steam in Lights! The dazzling illuminated train ride, taking you on a journey where lights come to life…
Steam in Lights has been reimagined for 2022 to take you on a journey around the world with bigger and better displays than ever before.
An immersive night-time experience, Steam in Lights turns the Severn Valley into a colourful light trail, for all the family to enjoy.
---
Much Wenlock Christmas Fayre
Much Wenlock | Dec | 20 mins from Church Farm
One of Shropshire's top "must see" Christmas events!
With around 150 stalls plus the town's fantastic selection of independent shops beautifully decked out for the festive season you are guaranteed a fabulous Christmas shopping experience.
Throughout the day there will be a variety of performances and entertainment all around the town.
The day ends with an atmospheric candle lit procession down the High Street and traditional Christmas Carol singing on the Square. It truly is a fantastic place to visit so please do come along and join us.